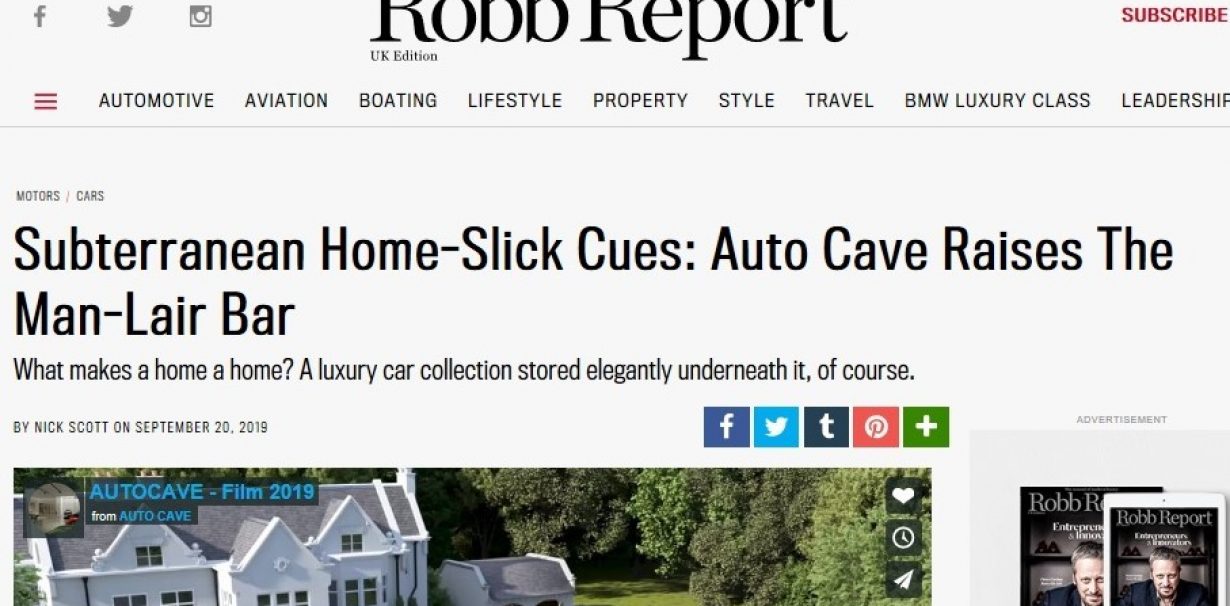 Discerning Magazine The Robb Report declares that AUTO CAVE 'raises the Man-Lair Bar' alongside an interview with Managing Director, Robin Knowles.
What makes a home a home? A luxury car collection stored elegantly underneath it, of course.
From The Robb Report, written by Nick Scott:
OK, so having so many luxury cars that you have to keep them away from your home is a pretty decent problem to have – but it's a problem that needed addressing, for many urban owners of private collection owners, according to Robin Knowles, Managing Director of Auto Cave – which is part of London-based subterranean contractor Knowles Group.
"Over the past five years, we've seen a spike in demand from many of our discerning clientele who wish to house their car collections at home," he says. "It's a clear shift from external storage facilities that often require planning, organisation and ultimately eliminates the very essence of their passion. Understanding this proposition and requirement within the HNW market is why we launched Auto Cave."
Knowles points out that fine wine and art are always stored within private residences for individuals to enjoy at their pleasure – and says that cars should be no different. "Traditional garages are unimaginative, and often hard to gain planning for," he says, "but subterranean garages are cool, space-intelligent and more likely to achieve planning. They're completely bespoke, so innovative accessories to rival childhood heroes are possible, from lifts and ramps to turntables. It can also be directly linked to the main house when used as a showcase space, as much as a storage unit'
You can read the article here – https://robbreport.co.uk/motors/cars/subterranean-home-slick-cues-auto-cave-raises-the-man-lair-bar-2795987/